Threat Level AMBER


| | |
| --- | --- |
| QLD Severe Weather Warning: Heavy Rain | |

Source: Bureau of Meteorology

For people in Central Coast and Whitsundays and parts of Herbert and Lower Burdekin, Capricornia and Wide Bay and Burnett Forecast Districts.

Issued at 7:11 am Wednesday, 18 October 2017.
Heavy rainfall is possible in coastal areas between Ayr and Bundaberg today.

Weather Situation:
An upper low lies over the northern interior of Queensland, which will move slowly east towards the tropical coast while weakening. A surface trough lies near the Central and Capricornia coast, and is expected to move into Townsville and Cairns waters later today.
Areas of heavy rain and thunderstorms, which may lead to flash flooding, are possible over coastal areas between Ayr and Bundaberg today, chiefly during the morning. 6 hourly rainfall totals of 120mm to 180mm are possible, with isolated 6 hourly totals over 200mm.

Severe thunderstorms are also possible in the area and separate Severe Thunderstorm Warnings will be issued as as necessary.

Locations which may be affected include Bundaberg, Rockhampton, Yeppoon, Mackay, Proserpine, Hamilton Island, Bowen and Ayr.

119mm has fallen in the 6 hours to 7.10am at Moore Park, north of Bundaberg.

Queensland Fire and Emergency Services advises that people should:
* Never drive, walk or ride through flood waters. If it's flooded, forget it.
* Keep clear of creeks and storm drains.
* For emergency assistance contact the SES on 132 500.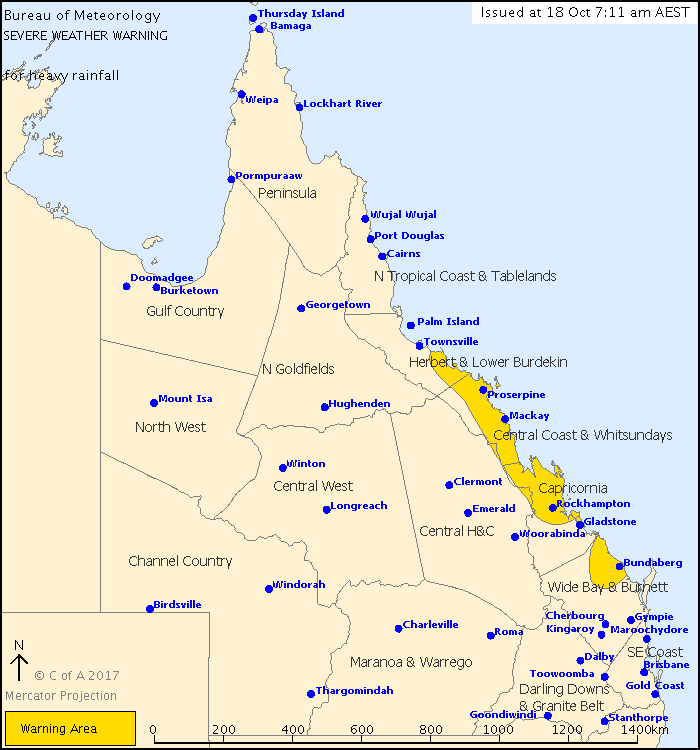 Help | Log In | Alerts Map | Register | Unsubscribe